DSSingleCard.com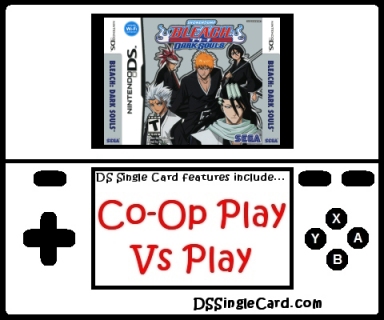 Setup & Timing


Bleach: Dark Soul's interface is easy to navigate and helpful. Options are spelled out in plain language. "Versus Mode" is on the main menu and "DS Download Play" is on the Versus menu. Download time is average. Unfortunately the status bars give false impressions of the download status to the host. Currently, the host (like each of the other players) is able to see their own download status and, since the host has the game, they're instantly ready while the guests have only begun downloading.



Menus & Navigation


The menu system is accurate to where the player intends to tap. Unfortunately, the options (still in one tall column) arew still teeny tiny and could be bigger (possibly in two columns).



Ease Of Use / Play Control


In Bleach: Dark Souls, there is no touch screen "control scheme" to choose, but the touch screen is again used (very appropriately) to activate special moves by pressing a button and to activate Spirit Cards (if enabled) with a single tap. Special Move and Spirit Card on-screen buttons are large enough that players can tap them with their finger (which is good, because picking up a stylus during a battle could be devastating). Basic moves are button controlled and, after a little getting used to, become very comfortable and natural).



Content


Bleach: Dark Souls is a multi-layered 2D fighting game; all of the graphics are two-dimensional, but there are two fighting lines (a background and a foreground) that you can choose to fight in (or jump from one to the other to change at will). This allows for characters to deal with only one or two opponents at a time, with the other characters still visible, and causes the action (which is very fast-paced) to be easily seen and understood. The sound effects and voiceover are a benefit to the gameplay and mood. The game features more than 40 playable characters (once they're unlocked) and more than a dozen playable areas.



Overall Fun


Bleach: Dark Souls is very much a follow-up to its predecessor Bleach: The Blade Of Fate. The interface is almost identical, with a few touch-ups here and there. The barely used "Manual" mode has been removed and the pre-game options have been cleaned up and clarified. There is also an increased roster of character (both available and unlockable) to choose from. A proper sequel to a great game is a great game with more, and Bleach: Dark Souls is exactly that.

Show the host one "download status" update bar per each of the guests with accurate status updates.

Redesign the menu systems with larger options. (Perhaps in two columns?)

Allow any player to pause the game.

Include each special move's button combination (graphically) on the buttons to assist in learning the moves manually (for those interested).

Permit two- or three-character games via Single-Card Download.





Overall Single-Card Download Rating: 88 / 100 (a.k.a. 44/50)


Other information available:




If you'd like to contact this website: here to return to the DSSingleCard.com Bleach: Dark Souls profile.
Click here to return to the DSSingleCard.com main page.