DSSingleCard.com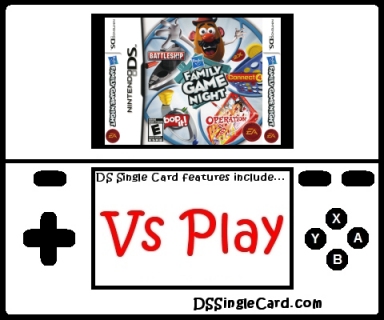 Setup & Timing


Hasbro Family Game Night is made with people of all experience levels in mind (both new and experienced Nintendo DS users). "Wireless Play" is on the main menu (almost as good as " Wireless Multiplayer") and "DS Download Play" follows on the next screen. The opening credits to Hasbro Family Game Night aren't too long and the download time is a little longer than average, but not by a lot.



Menus & Navigation


All of the menu options are either horizontal bars or large squares. All options have well-defined borders and are clearly - and understandably - labeled.



Ease Of Use / Play Control


Since the four games have four distinct control schemes, here's the breakdown:

Battleship: Overall, the Battleship controls are pretty accurate. To unselect a square, a player must tap in the square again. It's not as natural as being able to drag the target, but it works. Other than that, the Battleship controls are virtually flawless.

Bop It!: The Bop It! controls work in part, but are unreliable and are FAR too sensitive. The vocal control works fine.

Connect 4: The controls in Connect 4 are excellent. Again, the column-to-column sensing is too sensitive, but nothing that can't be worked around.

Operation: While the point is to move the moving item through the small canal, the difficulty level, even in "Training Mode" is ridiculous.



Content


Graphically, the games all look similar to their real-world counterparts, which is fine. The sound is absolutely essential in Bop It!, but unnecessary anywhere else, though it's not offensive or annoying in any way and won't interfere if left on. All four games on the chip has two-person multiplayer via Single-Card Download play, but none of the games allow more than four players. All of the games are just like their real-world versions without any design varions at all (you can't even pick your colors on Connect 4). None of the games have downloadable Demos.



Overall Fun


Hasbro Family Game Night is a collection of four hasbro-owned properties: Battleship, Bop It!, Connect 4, and Operation (for some reason, Mr. Potato Head is in the game, but you can't play with him). The game's release in 2009 comes approximately five (5) years after the release of the original Nintendo DS system. The game was developed and released by one of the biggest game companies in the industry. For some reason, though, the game suffers from control sensitivity issues and a lack of basic features like the ability to play more than two people in Operation (or any other game), any kind of graphical variation, or any kind of downloadable Demo.

Don't get me wrong: the game is fun. The game is playable. Battleship and Connect 4 are nearly flawless and are a great way to spend some free time. I enjoyed playing the game and plan to play it more. I just feel that such a big and well-respected company with such vast resources this far into the system's release shouldn't have these sorts of problems. All patient players who want to relearn these games are welcome: you will enjoy. Just make sure you're in a good mood and your Patience Meter is full going in.

Allow up to four (or more) players.

Make downloadable Demos available for each of the four games.

Include graphical variations: themes, colors, etc.

Let players drag their target from one square to another (prior to shooting) instead of just tapping to untarget.

Repair the touch screen interface for Bop It!.

Adjust the sensitivity of the column-to-column sensing in Connect 4.

Fix the difficulty setting differences in Operation.





Overall Single-Card Download Rating: 74 / 100 (a.k.a. 37/50)


Other information available:




If you'd like to contact this website: here to return to the DSSingleCard.com Hasbro Family Game Night profile.
Click here to return to the DSSingleCard.com main page.