*** Heavy Armor Brigade ***
DSSingleCard.com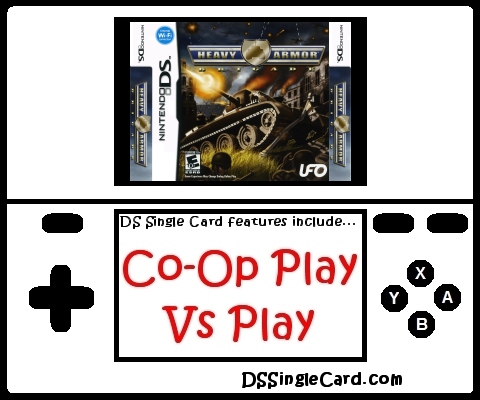 Basic Game Information

Game Title: Heavy Armor Brigade

Alternate Names: "Heavy Armor Brigade DS", "Tank Beat 2", "Tank Beat 2 Gekitotsu! Deutsch-gun vs. Rengou-gun" (Japan)

Publisher(s): UFO Interactive

Developer(s): MileStone, Inc.

Release Date(s): 2008-12-02 (U.S.), 2007-11-29 (Japan), 2008-04-26 (Korea)

ESRB Rating: Everyone 10+ (Mild Violence)




Single-Card Download (SCD) Basics 8-10 minutes,
Single-Card Download (SCD) Specifics
Game Description (as the Publishers describe it):
REVISIT THE INTENSITY OF WWII AS A TANK COMMANDER.

Step into the drivers seat as you lead your tank brigade into battle. Make quick decisions and devise strategic pathways as you maneuver through enemy fire. Immerse yourselves in a game that requires both stylus skill and tact to come out as victor!

Choose from sixty eight different tanks with eight different colors.

Go head to head against the best with Wi-Fi compatibility.

Experience an innovative combat system.

Choose from four different countries.




More Game Specifics (External Links)



If you'd like to contact this website: here to return to the DSSingleCard.com main page.