DSSingleCard.com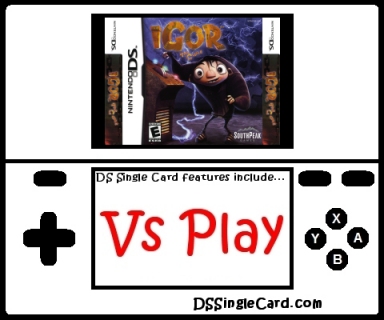 Setup & Timing


Navigation through the game's menu system is quick and easy: "Multiplayer" is on the main menu and "Single-Card Play" is right on the next menu. The opening credits are skippable and the download time is rather fast.



Menus & Navigation


The tappable are for the menu options aren't very large, but the options are large enough and separated enough that this isn't a problem.



Ease Of Use / Play Control


Igor: The Game is actually rather easy to use. The included controls are mostly button-based, meaning the controls are very accurate. Very little of the downloadable game's actual controls are use the touch screen (you tap a body part for that limb to attack). Unfortunately, touch-based controls for manipulating the falling blocks would have made the game much easier to play for players not as used to button-controlled games, and even many of them would have benefitted.



Content


The graphics aren't terrific (they're often pixelated or poorly rendered), but they're not terrible either; there just doesn't appear to be a lot of "gloss" and "finish" in the final product. The host's system features music and sound effects, while the guest's system features only sound effects. The music doesn't add anything to the gameplay, however, so it's not a big loss. Feature-wise, there are 19 different characters to choose from and each of them have four power levels, meaning there are 76 different options.

Category Score: 12.5 / 15



Overall Fun


A lot of games made to tie in with movies are lacking in quality. They try to keep up with the movie and are often not given as much care (not to mention budget) as the movie receives. A lot of movies that are translated into video games also don't translate as well into the medium of "game" (these aren't rules, and there are exceptions, but these are recurring issues). Pile on top of those issues the problem that movie games have to be released in a timely fashion in order to be able to sell anything, you end up with a lot of rushed, sub-par quality games.

Igor: The Game, while following the storyline, didn't rush itself as another sub-par adventure title. Instead, it took the path of a puzzle fighter. Play through the puzzle to earn attacks. The game plays similarly to the Tetris franchise and the Dr. Mario franchise, but falls short of those two top-notch series because of its slow pace and lack of anything to build upon the foundation they created. Not equalling Tetris and Dr. Mario, however, doesn't mean Igor: The Game is a bad title. The game is, in fact, fun. For Single-Card Download play, the game provides an impressive range of options and (as a result of randomized blocks) has a virtually unlimited replay value. While I can't recommend Igor: The Game over, say, Tetris DS (one of the best of its kind), I can still definitely recommend it as fun for people who are looking for a quick, cheap Single-Card Download title.

Include touch screen controls for manipulating the blocks as they fall.

Increase the pace of the game.

Add in an original game mechanic (specialized blocks, etc.) to help the game stand out from other puzzle titles like Tetris DS.





Overall Single-Card Download Rating: 81 / 100 (a.k.a. 40.5/50)


Other information available:




If you'd like to contact this website: here to return to the DSSingleCard.com Igor: The Game profile.
Click here to return to the DSSingleCard.com main page.