DSSingleCard.com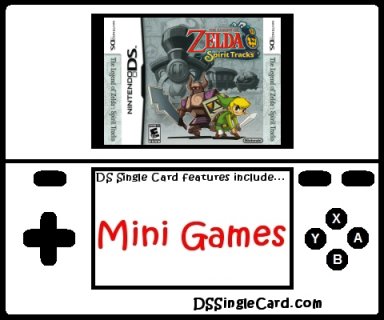 Setup & Timing


The Legend Of Zelda: Spirit Tracks is designed to be easily navigated by players of any age. Afte entering into a profile, the host selects "Battle" (as pposed to Adventure) and "Create Group" for the guests to connect. Having "Multiplayer" instead of "Battle" would have been nice, as would a wireless icon, but the setup works and is understood the first time if some logic is injected. The opening credits and cinematic are a little long, but are also easily skippable. Download time is average, if not a little faster.



Menus & Navigation


The menus are made up of large, clearly labeled options with clearly defined borders for the areas that can be tapped.



Ease Of Use / Play Control


Unlike the last game (The Legend Of Zelda: Phantom Hourglass), the Force Gems don't need to be picked up and thrown around. The Force Gems here only need to be picked up, and are picked up automatically by walking into them. Link moves around by following where the stylus is making contact with the screen, and his speed changes based on how far away the stylus is. Nothing in the controls is unexpected: actions do exactly what they're supposed to, with accuracy at (or above) 90%.

Category Score: 14.5 / 15



Content


Graphically, The Legend Of Zelda: Spirit Tracks looks almost exactly like the last game, except maybe a little smoother. The look is cell shaded, as it's bright and colorful. Audibly, the game features remixes of previous Zelda themes, the same kind of music Zelda fans have loved for over 20 years. The sound effects are helpful in alerting players to what's going on just off the screen, which is important because Phantoms will spot Link from off screen and if Link doesn't run before the Phantoms arrive on the screen, Link simply won't get away. The game features six different battle arenas, but doesn't allow players to select a time limit, difficulty, or any other setting.

Category Score: 12.5 / 15



Overall Fun


The Legend Of Zelda is one of the most revered franchises in video game history, already over 20 years old. The two Legend Of Zelda games on the Nintendo DS are among the best reviewed games on the system. Specific to Single-Card Download play, The Legend OF Zelda: Spirit Tracks' multiplayer is one of the most fun multiplayer games I've ever played on the system. It's easy to pick up, it's simple to play, it allows for classic smack talk, and allows players to temporarily team up against the Phantoms. Every negative control situation from the first game was corrected or removed, and everything is simplified. The game is easy enough that a five-year-old could play it. It's a great game - one of the best multiplayer experiences on the DS easily, and I hearily recommend it for everyone.

Change "Battle" to "Multiplayer Battle" or add a wireless icon.

Allow players to "zoom in" or "zoom out" when playing.

Let players design their own battle arenas to play via Single-Card Download.

Permit players to choose their time limit, difficulty, etc.

NO - Offer guests' choice of a standard download or a download that walks the guest through the tutorial and then begins the game.

NO - Allow players to select which color they want to be and, separately, which Base they want to inhabit.

NOT VALID - Permit hosts to earn their Big Plays in Single-Card Download play.

NO - Include options for the number of rounds the players want to play and the length of each round.

NO - Make a Create-A-Stage option for Battle, along with the ability to download additional stages.





Overall Single-Card Download Rating: 93 / 100 (a.k.a. 46.5/50)


Other information available:




If you'd like to contact this website: here to return to the DSSingleCard.com The Legend Of Zelda: Spirit Tracks profile.
Click here to return to the DSSingleCard.com main page.