DSSingleCard.com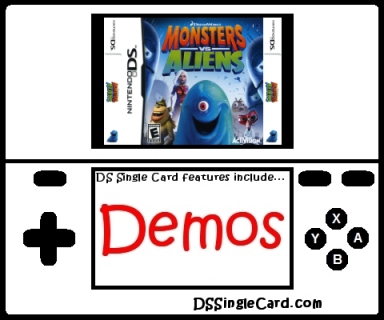 Setup & Timing


The main menu has only two or three options, and one of them is "Share Demo" The download starts automatically and will usually take less than one minute. Opening credits are average duration.



Menus & Navigation


The menus reacts well to taps, are well labeled, and provide sufficient buffer space in between options.



Ease Of Use / Play Control


While the main game in Monsters Vs Aliens (which is not reviewed here) encorporates the touch screen, the Single-Card Download demo sticks to button controls. The button controls are mostly reactive, however attacking is slightly delayed, and can cause a little bit of annoyance. Otherwise, the controls are solid and spot on. Particularly effective (when not getting hit by a robot) is the ability to use Missing Link's spit attack by blowing into the microphone, just try not to spit into the mincrophone.



Content


Graphically, the game is on par with the main game, setting an honest example. The environment in the demo is a 2D landscape while the character models 3D-looking features. During the demo, there is no voice over and the sound isn't necessary. While the sound effects add to the mood and can pre-announce enemy robots, the demo is easily playable with the system muted and your music blaring. There aren't any options to select from (characters, difficulty, etc.), but the level in the demo is made specifically for Missing Link and couldn't be played the same with any other character.

Category Score: 11.5 / 15



Overall Fun


Like several other movie tie-in games from Activision (Shrek The Third and Madagascar: Escape 2 Africa), Monsters Vs Aliens features a downloadable demo of one sample level to inform potential customs of the gameplay and help the game to find its appropriate customers. Unlike the previous two, however, Monsters Vs Aliens features a level with threats and dangers and the potential to die. That fact, regardless of how weak those threats and dangers are, makes the experience seem like an actual game (as opposed to an a puzzle-solving experience) and it makes the experience much more closely related to the actual single-player experience. Any way you slice it, Monsters Vs Aliens has a playable game demo, and the first of its kind that can actually be replayed without knowing exactly what's going to happen ahead of time.

Inform players what the "Mutant DNA" and "Trash" pickups do in the main game when they're first encoutered.

Offer difficulty options that provide more or less enemy robots.

Include limited voiceover for the introductory story elements.





Overall Single-Card Download Rating: 81 / 100 (a.k.a. 40.5/50)


Other information available:




If you'd like to contact this website: here to return to the DSSingleCard.com Monsters Vs Aliens profile.
Click here to return to the DSSingleCard.com main page.