*** My DoItAll ***
DSSingleCard.com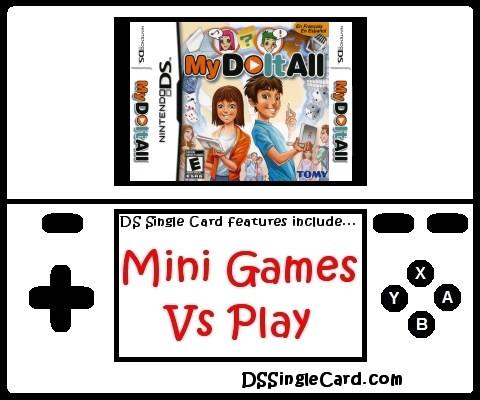 Basic Game Information

Alternate Names: "My Do It All", "My Do-It-All"

Game Genre(s): Board/Card (Card), Compilation, Other (Productivity), Simulation/Social (Social)

Release Date(s): 2009-02-10 (U.S.)

ESRB Rating: Everyone (Comic Mischief)




Single-Card Download (SCD) Basics


Single-Card Download (SCD) Specifics


Game Description (as the Publishers describe it):

The all-in-one, tons-of-fun gizmo!

Stay in touch with all your friends by sharing Friend Cards

Tons of features such as a voice changer, sound effects, calendar, calculator, world map, and more!

Have fun plaing wireless multiplayer games

Create your own "mini-you" character




More Game Specifics (External Links)




If you'd like to contact this website: here to return to the DSSingleCard.com main page.