DSSingleCard.com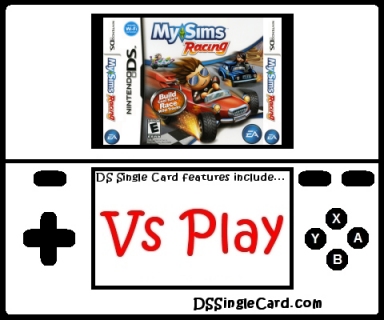 Setup & Timing


MySims Racing's interface is made with new and inexperienced players in mind. After a long, one-time setup process, the host just has to select "Multiplayer" before being given access to "Single-Card Play" (and then "Send game data"). There is virtually no opening credit sequence taking up time, and download time averages just under one minute.



Menus & Navigation


The menu system consists of large tappable buttons with clearly defined labels and border lines. Many of the options can be selected multiple ways (for ease of use), like double-tapping or tapping and then selecting the green check mark.



Ease Of Use / Play Control


Gameplay in MySims Racing is simple and intuitive. Steer with the direction pad, Accelerate with the "A" button, brake with the "B" button, and use power-up items and hop with the "L" and "R" buttons, respectively. The game's designers didn't force touch controls into the game where they wouldn't be beneficial. Power-up items are simple to use and understand. The track's map on the lower screen is easy to read and interpret. Overall, the game's controlls are spot on and work just like they're expected to.

Category Score: 14.5 / 15



Content


Graphically, the game's design is simple and matches the other MySims titles. Some of the lines are a bit jagged, but the animation is pretty smooth. Audibly, the background music is fine (actually not annoying) and the sound effects can help indicate either what's happening nearby or what's approaching. The game's major shortcoming, however, is its lack of features. There are no car, character, or track options in Single-Card Download (at least a choice would have been appreciated, even if customization wouldn't work via Single-Card Download play). Only two players can race at a time via download. The game won't allow players to change the number of laps or a player's handicap. A series of Mini-games and/or a downloadable Demo would also increase the value for non-owners being able to experience more of what the game could offer if they bought it.



Overall Fun


MySims Racing is a fun little title. Its simplicity actually gives it a little more replayability: I raced the (only available) track several times, and enjoyed the style. While die-hard Mario Kart DS racers aren't going to find a challenge here, new players will find this a great title to start out on to learn the basics of racing on a Nintendo DS system. While the main game holds lots of content, the Single-Card Download play options are light, and may not last many players for very long, it's a fun little experience while it does last, and can be enjoyed across several skill levels.

Provide a variety of characters, cars, and racetracks for Single-Card Download play.

Allow more than two (2) players to race at once via Single-Card Download play.

Offer adjustable options for number of laps, handicaps, etc.

Include Mini-games and a downloadable Demo.

Category Score: 12.5 / 15





Overall Single-Card Download Rating: 80 / 100 (a.k.a. 40/50)


Other information available:




If you'd like to contact this website: here to return to the DSSingleCard.com MySims Racing profile.
Click here to return to the DSSingleCard.com main page.