DSSingleCard.com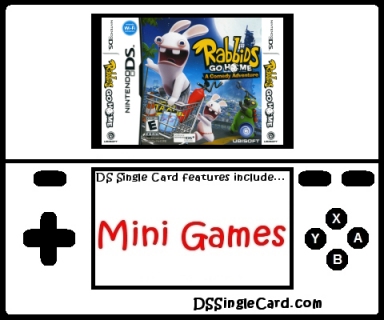 Setup & Timing


The interface for Rabbids Go Home is simple and easy to use. The opening is extremely short, and the host only has to go to "Multiplayer" and then "DS Download Play" to access the Single-Card Download feature. The download of the game is excruciatingly slow, though, sometimes lasting over two (2) minutes, and is broken up into so many parts that it isn't clear when the download is final. Also, the host can't work with levels (selecting, editing, etc.) while waiting on the guest.



Menus & Navigation


The menu system itself is well done: the selectable options are well labeled, their borders are well defined, and the input from tapping is accurate.



Ease Of Use / Play Control


Both the host's ability to edit levels and the guest's (and host's) ability to play levels are acurate overall, though some factors do make things harder to use. The rotate icon and the hide icon are extremely small. Many other aspects of the level are small as well, meaning a stylus is basically essential (no playing with a finger or thumb here). Items like platforms can be stretched wider, but not shrunken in the same way. Otherwise, the physics engine actually works well, including in user-created levels.

Category Score: 11.5 / 15



Content


The game's graphical resolution (looks) aren't top notch, but they don't need to be. The game does look well-enough to play, and the graphics aren't bad enough to distract. Sound-wise, the sound effects (and music) on the host's end are cute, but unnecessary; there is NO sound on the guest's end at all, and this is likely due to avoiding lag during the constant streaming connection. In terms of features, the game allows several levels to be sent while the systems remain connected, and even allows the host to share user-created levels, which is a very rare (and good!) thing. The gameplay itself is identical to the Single-player experience when playing the same levels.

Category Score: 12.5 / 15



Overall Fun


NOTE: Rabbids Go Home was hard to classify. It's not a Vs Play ior Co-op Play experience because the guest is playing by themself. It's not quite a downloadable Demo because the systems remain connected throughout. I ended up classifying it as Mini Games (that being the closest analogy). This isn't a bad thing -- in fact, it makes this game kind of unique when it comes to its Single-Card Downloadable content.

Rabbids Go Home for the Nintendo DS is a very different game from every other game featuring the Rabbids; in fact, its gameplay doesn't even resemble the Wii version of Rabbids Go Home! Rabbids Go Home for the Nintendo DS is a strategic action-puzzle platformer. That interesting gameplay combination also makes it an experiment, as nothing quite like it previously existed. The main single-player experience (no reviewed here) is a series of levels where items have to moved around and manipulated so that the insane Rabbids can pick up the items as they make their way through the levels. In the Single-Card Downloadable gameplay, the same levels (as well as user-created levels) are "taken out of context" and played one at a time. Granted, each individual level has no specific story attached to it, but levels provide gameplay introduction (and ideas) for future levels.

When played in order, without the game's text introductions (and if the host doesn't explain things), the gameplay won't make any sense. There're no clearly defined goals and there's no way to way if you've achieved them. To be understood at all, Rabbids Go Home's Single-Card Download play requires an introduction, which the game doesn't provide (see DSSingleCard.com's Rabbids Go Home Hints for suggestions on how to introduce the game to a guest). Even with proper introductions, however, there is virtually no valuable content until the host has spent a decent amount of time playing the game and/or creating custom levels. The Single-Card Download play CAN be fun, but is deosn't start out that way, and it takes dedication to get there. If you do spend the time, however, it will get there.

Speed up the download process and combine it into one single download phase (or indicate status, i.e. "Step 2 of 4 in progress").

Let the host to manipulate levels while waiting on the guest (selecting, editing, etc.) to complete their download/setup process.

Replace the rotate and hide icons with a single, slightly LARGER, menu icon that allows all manipulation features available.

Allow players to shrink items' width in the same way they can stretch them out (the pulsing plungers).

Increase the graphical resolution.

Indicated each level's goal before starting it and indicate when the goal is (or isn't) reached.

INCLUDE A TUTORIAL FOR THE GUEST (whether it's automatic or as part of a proper downloadable Demo).





Overall Single-Card Download Rating: 69 / 100 (a.k.a. 34.5/50)


Other information available:




If you'd like to contact this website: here to return to the DSSingleCard.com Rabbids Go Home profile.
Click here to return to the DSSingleCard.com main page.