DSSingleCard.com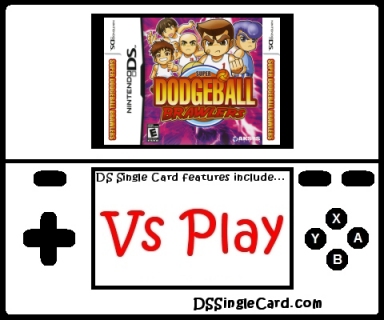 Setup & Timing


The main menu in Super Dodgeball Brawlers makes it easy to find anything you're looking for. Both "VS Match" and "Brawl" are right on the main menu, and both have a "Download" option. The opening credits can be skipped by pressing the Start button a couple of times. Download time was average.



Menus & Navigation


The menu options are large, well-labeled (and descriptive) and there is small, but sufficient, buffer space between tappable options.



Ease Of Use / Play Control


The in-game controls for Super Dodgeball Brawlers are button-based, contributing to near-perfect accuracy. The biggest weak spots are how close a character has to be to pick up the ball and the ability to get out of the way of basic attacks, and even those are mostly accurate. The fact that a couple of different buttons have as many as four functions each can be daunting, but they all happen in very different situations and it means players barely have to move their right thumb.

Category Score: 12.5 / 15



Content


Graphically, the game is very similar to the original Nintendo Entertainment System (NES) game it's updating. The same basic graphical designs and animations are used in the game, but the colors are brighter and the animations are smoother. Audibly, the sound effects can be considered invaluable; for example, the sound effects tell you when you've run your fifth (5th) step so that you can launch a Ground SuperShot (particularly in "Vs Match") -- without the audio cues, it's blind guessing. In Brawl, they still help, but for the purpose of Ground SuperShots and step counting, the field is open, so a lot more characters are running around at a time, making counting difficult. In the Single-Card Download matches, options like picking a team and location are not available, but two of the three gameplay modes (both of the multiplayer modes) are available.

Category Score: 12.5 / 15



Overall Fun


The original version of Super Dodgeball for the NES was a basic (but good) dodgeball game that allowed for one or two players (or up to four in the Japanese version) with a Single-Player mode, a Vs mode nearly identical (in setup) to "Vs Match" in Super Dodgeball Brawlers, and a mode that would evolve into "Brawl" mode for the Nintendo DS game. In the new game, up to eight people can play over Single-Card Download. Super Dodgeball Brawlers also features the introduction of punching, kicking, and weapons.

I had an absolute blast playing Super Dodgeball Brawlers. It's been far longer than I'm going to admit since I played the original game and while I enjoyed it, I never owned it. The new game brings back the retro goodness and adds in fighting elements (which, in different playthroughs, I spent time using and avoiding for both feels). Whether you use the punching and kicking and weapons, the game still has a great pick-up-and-play old school charm. If you're looking for a Single-Card Download game to pick up and play, without the feel of missing anything, this is a great selection. I have no doubt I'll be pulling this one out many more times.

Offer the option of up to eight (8) players for Vs Match (with players selecting the team they're on, or with the captains picking players).

Allow players to dash up and down (forward and back).

Improve the range for picking up the ball (the system that gauges if you're close enough to pick it up).

Increase animation accuracy when indicating if a character can get out of the way of a throw.

Change the sound effects for the currently-controlled character to differentiate them from the other characters (see above).





Overall Single-Card Download Rating: 88 / 100 (a.k.a. 44/50)


Other information available:




If you'd like to contact this website: here to return to the DSSingleCard.com Super Dodgeball Brawlers profile.
Click here to return to the DSSingleCard.com main page.