DSSingleCard.com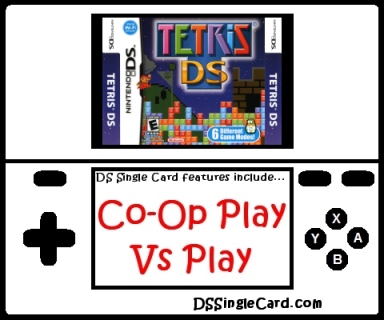 Setup & Timing


Tetris DS is set up with new users in mind. The menu selections are large and well-labeled. Multiplayer is #2 on the main menu, followed by a simple "Invite" or "Join" selection after Multiplayer has been selected. There isn't a long opening credit sequence (I believe it's one screen). The download for each of the three Tetris games range between 30 and 45 seconds. Unfortunately, to switch Tetris game types, the guests have to power off their systems and power them back on for a brand new download.



Menus & Navigation


Each of the option on the menus are very large and well-labeled in large letters. There is plenty of buffer space in between the different options, so you won't be accidentally clicking on any wrong options. The game does not require owners to go through a long introductory sequence the first time the game is played and nothing relating to the Single-Card Download multiplayer experience needs to be unlocked.



Ease Of Use / Play Control


Tetris DS's controls are very simple and elegantly layed out. The two most easily accessed buttons, the "A" and "B" buttons, are used for rotation. The direction pad is used for movement. The "L" and "R" buttons are used for the Hold Queue and, when applicable, the "X" button is used for Items (in Standard Tetris). That's it. Simple. The touch screen is used in for the menus (and in Touch Tetris, which is not available in Single-Card Download), which is the best thing. I really can't think of any improvements I would've made.



Content


The look of Tetris... well, it's Tetris. It's a bunch of blocks. It doesn't have much in the game, but it doesn't need much. The backgrounds and surrounding areas are terrifically themed in both look and terrific arrangements of classic Nintendo themes, which sound amazing. While the sound doesn't directly affect the gameplay, it really adds to the theme and atmosphere. Three of the six Tetris modes are included. It would've been nice if they were all available (including Puzzle Tetris as a downloadable demo). Touch Tetris especially would've been a nice t... well, you know... addition.



Overall Fun


Tetris is a classic puzzle video game, dating back over twenty years. In doing a little web navigating, I've come across more than 30 different versions of Tetris for various video game, computer, and cell phone platforms, and there are probably more that I didn't find. When comparing Tetris games and deciding which ones are better than others, you have to look at their differences. What's unique about Tetris DS when compared to other Tetris games? What makes it worth buying?

Aside from the fact that if you want to play Tetris on the Nintendo DS, you don't have any other choices, there are several things Tetris DS has that some other versions do not. For starters, Tetris DS has three Single-Card Download multiplayer versions (six versions in all), several of which made their world debut in this edition of Tetris. The controls are impecable - easy to use and well thought-out. Several new or rarely used features (the Hold Queue, the Items in Standard Tetris, the ability to see what your opponent has coming, etc.) have been included in Tetris DS. In addition, Nintendo has delved into their first-party IP (Intellectual Property) catelog to encorporate themes to each version of Tetris included in Tetris DS. In Single-Card Download play alone, Standard Tetris is themed to Super Mario Brothers, Mission Tetris is themed to The Legend Of Zelda, and Push Tetris is themed to Donkey Kong.

At this point, most electronic game players have played a version of Tetris at some point, be it on a video game (portable or console), a computer, on-line, cell phones, calculators, etc., and most know that they either do or do not enjoy the Tetris-styled puzzle games. For people that like Tetris puzzle games, you'll have an absolute blast with this version. For those that have never played a Tetris-styled puzzle game before, it's definitely a way to pass the time. For those that don't enjoy it (or for those that aren't willing to give it a shot), there's nothing more I can say to you. All I can say is that this is, in my humble opinion, the best Tetris game I can ever remember playing (and I've played many) and I plan to continue playing it for the foreseeable future.

Allow for switching between the different Tetris games without the guests needing to power off their Nintendo DS systems.

Permit players to blow into the microphone to keep Tetriminos aloft longer (selectable option on the menu).

Include Puzzle Tetris as a downloadable demo.

Offer Touch Tetris and Catch Tetris multiplayer modes via Single-Card Download.





Overall Single-Card Download Rating: 92 / 100 (a.k.a. 46/50)


Other information available:




If you'd like to contact this website: here to return to the DSSingleCard.com Tetris DS profile.
Click here to return to the DSSingleCard.com main page.