DSSingleCard.com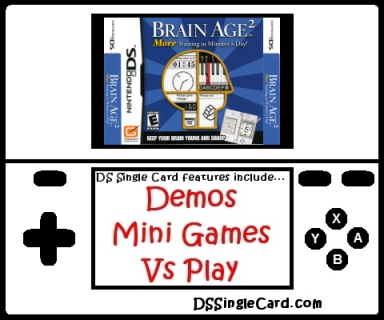 Setup & Timing


Brain Age 2: More Training In Minutes A Day! (Brain Age 2)'s navigation is simple and targeted at new and casual gamers. The opening credits are short and "hurryable" (now it is a word!). The Download time is appropriate to the download and the "Download" option is right on the main menu.



Menus & Navigation


The menus all consiste of extremely large areas made with tapping in mind. All of the options are labeled clearly and the labels themselves are large and legible.



Ease Of Use / Play Control


Everything in Brain Age 2 is controlled by drawing, writing, tapping, and speaking. The entire control scheme is simple and easily picked up, regardless of which activity is being played. The game is extremely intuitive. Speaking controls work well with the microphone if the player is about a foot away from the microphone while speaking. Other than voice, the game is controlled (and will react) exactly as expected.



Content


Brain Age 2, like the original (Brain Age: Train Your Brain In Minutes A Day!), contains Vs Play Minigames and a demo in its downloadable content offerings. The original title contained a demo with a Quick Brain Age Check, Quick Training, and Quick Sudoku. This version does as well, but the Quick Training does NOT include the same random generator, meaning the replay value for the Quick Training is limited. The Vs Play Minigames more than make up for it, however, where one activity in the original game is now four activities. One of the four matches the Quick Training, but in the original game, the one and only Vs Play minigame did the same thing. The original game's signature combination of music and sound effects make their first cameo appearance here (they have also since appeared in Super Smash Bros. Brawl for the Nintendo Wii). The graphics, simple and plain like the first game are equally appropriate this time around. Dr. Kawashima's head still floats around on the non-touch screen just as "creepily" as before.

Category Score: 13.5 / 15



Overall Fun


Brain Age 2 is an excellent software title, but any sequel will inevitably draw comparisons to the original, so let's just get straight to it. When comparing the two Brain Age games, I came to two simultaneos, yet contradictory conclusions. The first conclusion is that it's more of the same, The second conclusion is that it's better. Yes, I know that those two conclusions don't play well together, so let me explain. At its heart, Brain Age 2 is both a continuation of Brain Age 1 and is meant to be used alongside Brain Age 1 to further the effectiveness/challenge of daily training. The Single-Card Download aspects, however, have changed, and I feel it's for the better.

Now, not everyhting got better. The Quick Training feature of the demo went from an activity with a random math problem generator to a word game (not necessarily a bad thing) that's the same every time (that IS a bad thing). To make up for it, however, one Vs Play Minigame became four distinct activities this a time around. If you're looking to pick up a Brain Age game, both are excellent (VS Picture Drawing is extremely fun with a good group.). Brain Age 2 is better for Vs Play, however, so if that's what you're looking to do, you can start with #2 and add #1 later.

Allow for players to quit out of Quick Sudoku without zooming out.

Encorporate additional one-on-one (demo-vs-demo allowed) Vs Play Minigames into the demo.

Improve the voice recognition of Quick Brain Age Check.

Offer one Sudoku puzzle per difficulty level.

"Brain Age: Sudoku Edition"!!!

Category Score: 11.5 / 15





Overall Single-Card Download Rating: 84 / 100 (a.k.a. 42/50)


Other information available:




If you'd like to contact this website: here to return to the DSSingleCard.com Brain Age 2: More Training In Minutes A Day! profile.
Click here to return to the DSSingleCard.com main page.