DSSingleCard.com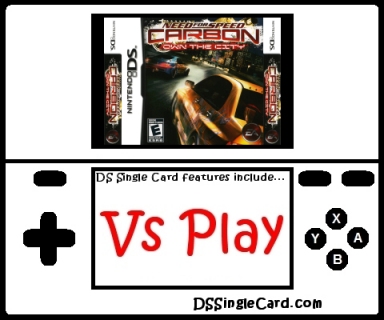 Setup & Timing


Basic setup in Need For Speed Carbon: Own The City (NFSC:OTC) is simple to navigate, with Multiplayer on the main menu and Single-Card following that. The opening credits aren't too long, and download time is average.



Menus & Navigation


The menu system is easier to navigate using button controls than touch screen controls. Some options are so small they're too hard to hit and the menu system can take unintended taps. On the other hand, when using button controls, everything works fine, is well-labeled, and is usually in a location that makes sense.



Ease Of Use / Play Control


The control scheme for NFSC:OTC is less like other Nintendo DS racing games and more like traditional video game console (GameCube, XBox Original or 360, Playstation 2 or 3, etc.) controls, with the shoulder buttons working the gas and break pedals, and a little bit of button and touch screen controls added on to supplement. The controls, while unusual for a Nintnendo DS racer, still felt (after a very brief adjustment period) natural and sensible. The car's reactions during normal driving situations (not during collisions) are exactly as expected. During collisions, the car is invulnerable to walls and bariers, but can flip fairly easily if it even grazes another vehicle.



Content


The Need For Speed series features city racing (as opposed to race tracks) and sensationalized graphics, using bright colors, large yellow arrows (for direction), and a bright colorful contrast between the lights and the city at night. Audibly, the Single-Card Download play for the game exclusively features a sound effect track (no music). There are no options available to select from.



Overall Fun


The thing that sets Need For Speed Carbon: Own The City apart from other racers I've reviewed is the bright-lights-on-dark-night design and it's unique-to-the-DS control scheme (and-other-odd-hyphenated-phrases). It's a fun racer and (from what I hear from other gamers) a great improvement on the prior Need For Speed games on the Nintendo DS (Carbon is the first Nintendo DS Need For Speed Game to be developed in house by Electronic Arts). The racing is pretty tight and fun. I'd like to see more courses, more players, and more features in general avaiable via Single-Card Download. While it's not a great racer via Single-Card Download, it is a good racer and I do recommend it.

Change the menu system to offer a more touch-friendly configuratiuon.

Allow players to select one of several courses prior to the download.

Make the game accessable to eight (8) guests at a time.

Offer up multiple control schemes, for Nintendo DS racing players more familiar with other control schemes.





Overall Single-Card Download Rating: 78 / 100 (a.k.a. 39/50)


Other information available:




If you'd like to contact this website: here to return to the DSSingleCard.com Need For Speed Carbon: Own The City profile.
Click here to return to the DSSingleCard.com main page.