DSSingleCard.com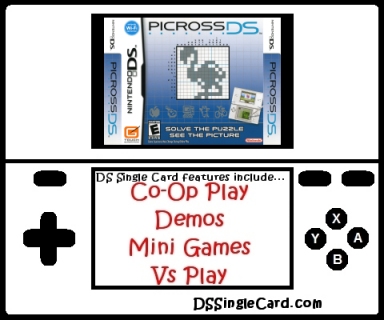 Setup & Timing


Picross is extremely easy to navigate through. "DS Wireless Communications" is located right on the main menu. The opening sequence is short. Download time is average to fast.



Menus & Navigation


The menu is a series of on-screen buttons which can be controlled by the Nintendo DS's buttons or by tapping them on the lower screen. All of the on-screen buttons are well defined, with clear borders, easily readable labels (the labels' names make sense), and sufficient buffer space.



Ease Of Use / Play Control


Picross DS contains two control types (stylus controls and button controls), either of which can be used by the hosts and the guests. The button controls are spot on, but slower than the stylus controls, which are much faster and easier to use: tap a control icon (if needed) and then tap one or more squares, Because of the size of the boxes, mistakes will occur if tapping with a finger or if players aren't careful. Additional zoom levels would help, but the game functions fine without.

Category Score: 13.5 / 15



Content


The graphics are decidedly, intentionally simple. If they were more complex, the puzzle difficulty would increase exponentially. Audibly, the sounds announce things like errors. Without the sound, the game is playable, but mistakes increase. Feature-wise, the Single-Card Download offerings of Picross DS include the ability to send a demo of every pre-made puzzle in the game, any custom-designed puzzle, and any downloaded puzzle, guessing games, and multiplayer contests.



Overall Fun


There are a lot of puzzle games on the market. A lot. There are brain puzzles, work puzzles, action puzzles, and others. In fact, this is the 47th (!!!) Single-Card Download Nintendo DS puzzle game reviewed on this site (and, obviously, there are more out there. Despite the wide, wide field of options, Picross DS is unique. It's the only Picture Crossword game (hence the name Picross), sure, but it's even more than that. It's the care and interest put into the Single-Card Download multiplayer that really makes it stand out. There are multiplayer matches. There are guessing games (both of pictures and words). EVERY puzzle in the game (that's been unlocked) can be sent as a demo. DOWNLOADED puzzles (via the Nintendo Wi-Fi Connection) can be sent as a demo. Even the CUSTOM PUZZLES (created by - or sent to - the host) can be sent as demos. Very, very, VERY few games allow custom content to be shared via Single-Card Download: they generally require a Multi-Card connection. This game offers up almost everything it can, and it does so flawlessly. Some of the puzzles are tough, and there's a steep learning curve, but if you enjoy this type of game, you'll get hundreds of hours out of the included puzzles, the downloadable puzzles, creating custom puzzles, and the multiplayer modes. I can't tell you how much time I've spent on the game personally. In truth, it's probably a much bigger number than I want to hear. I did recently download 100 new-to-me Classic puzzles, however, so that mystery number is going to continue to grow...

Provide additional zoom options to make the squares larger.

Combine the slots made available for Custom and Classic puzzles (instead of 100 & 100, any combination that = 200).

Increase the number of slots for saving custom and downloaded puzzles (beyond 100 each and/or beyond 200 total).

Allow for the downloading of selected (pre-screened) Custom puzzles over Nintendo Wi-Fi Connection without the need for friend codes.

Introduce the use of the Nintendo DSi Camera and the ability to turn photographs into puzzles.





Overall Single-Card Download Rating: 95 / 100 (a.k.a. 47.5/50)


Other information available:




If you'd like to contact this website: here to return to the DSSingleCard.com Picross DS profile.
Click here to return to the DSSingleCard.com main page.