DSSingleCard.com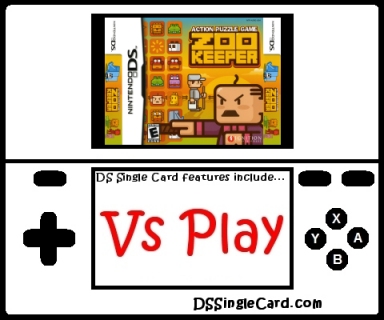 Setup & Timing


Being a launch title for the Nintendo DS, very few people were familiar with the system when the game was released. This is reflected in the thorough, hand-holding interface, which openly welcomes new, unfamiliar players. "2p Battle" is right on the menu, so there's no mystery when trying to track down the multiplayer feature. Opening credits aren't ridiculously long and the download should run you less than thirty (30) seconds.



Menus & Navigation


The menu options are well-spaced and properly programmed. Tapping on an option gives you that option, simple as that. And, just in case your aim is inferior, the menus (and the game) can also be controlled using the buttons.



Ease Of Use / Play Control


The controls as surprisingly simple, intuitive, and - above all - accurate, expecially when using the touch screen (a number of early titles to use the touch screen didn't have anywhere near this level of accuracy). Buttons controls aren't as fast or as accurate (mostly due to the speed restrictions). While the controls aren't a full 100% (there are times that the touch screen is almost a little too sensitive), they're more than sufficient... they're fun.



Content


Graphically, Zoo Keeper is very stylized. The animals are block drawn, which gives the game a unique and refreshing appearance and differentiates it from other games that use animals. The music and effects, while nice, aren't essential. The multiplayer function of Zoo Keeper does not provide any selectable options or modes to choose from.



Overall Fun


Zoo Keeper was one of the first in a long line of "Put-Things-In-A-Row" puzzle games for the DS, taking early advantage of the touch screen interface for an obvious (and not gratuitous) interface. The game is fun and (as of post date) very inexpensive, often appearing for $10-$15 on sale (or regularly priced) at stores because of its age. Being a puzzle game that takes full advantage of the touch screen, the game fortunately does not show its age and holds up rather well. Puzzle games usually don't get the kind of press that big RPG and Adventure titles enjoy, so good puzzle games are often overlooked. I enjoyed Zoo Keeper and plan to continue playing it. It's simple (when you're not looking for a game that requires deep thought) and it's fun. The only qualm I had with the multiplayer aspect - and it is, unfortunately, a big one - is that the multiplayer is extremely short. There are no mode choices and there are no settings or options. It doesn't last too long. Granted, the short nature of the game is covered up by making each match the best two of three. Granted, the game does allow you to keep playing more and more matches endlessly. Granted, the more you play, the more often rare tiles appear. Variety, however, IS the spice of life (insert generic spice joke here). A little variety would go a long way. Perhaps, if a sequel is ever made, a couple of animals can be included and gamers could choose which ones they want as part of their downloads (unlockables?). Perhaps, endless (untamed) modes can be downloaded. Perhaps, a downloadable demo can be added. Who knows?

Allow for more players (up to 16?).

Include one (or more!) of the endless modes in the Single-Card Download multiplayer.

Permit players to choose which animals they want to include from a much longer list.

Offer a Single-Card Downloadable Demo for single-player play.

Category Score: 11.5 / 15





Overall Single-Card Download Rating: 79 / 100 (a.k.a. 39.5/50)


Other information available:




If you'd like to contact this website: here to return to the DSSingleCard.com Zoo Keeper profile.
Click here to return to the DSSingleCard.com main page.