DSSingleCard.com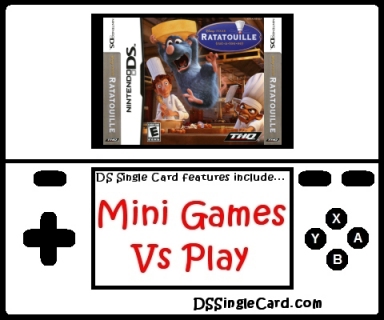 Setup & Timing


The game doesn't say that "Cooking Game" is where the multiplayer option is located until you've clicked on it. There is a forced opening credit sequence which can't be skipped, but it can be sped up a little. Download time is just shy of 1 minute and 40 seconds.



Menus & Navigation


Tap-able areas are large with sufficient buffer space. Labels are clear, easy to read, and well worded.



Ease Of Use / Play Control


Ratatouille's shortcoming is it's control system. It not a bad design (not at all), but there are some flaws that are hard to get past. Some of the controls (slicing especially) require movements to be SO specific - even in "Easy" mode - that you may have to try several times before you're capable of getting it right. Even worse than that, however, is the Star system. Stars will appear on the touch screen periodically. The original concept is that you throw them at the photo of an opposing chef (the same way that you selected your chef before beginning the game). This sends Skinner (the head chef) after them - he yells at them and distracts them so they can't do anything for a few seconds. The base concept here is solid and makes the game more competitive and interactive between players. The problem is that the star doesn't appear in a corner and wait there for you to do something with it. It'll pop up in random locations on the touch screen, often getting in the way and possibly causing you the need to re-prepare ingredients and to start over a recipe that you were a second away from losing. In addition, you can accidentally send the stars at your chef's portait and rain Skinner's wrath down on yourself. The main problem is the star getting in yourn way when you're on a VERY short schedule.



Content


Ratatouille's look is cartoonish, which is befitting the theme (and movie origin). The sound effects are helpful - everything from sizzling and stirring to that tone that lets you know that a star just got in your way. There are at least seven different recipes, so the variety changes with different playthroughs. You can't select which recipes youj'll be preparing.



Overall Fun


Ratatouille is not a bad game. It's fun, innovative (microphone control and appropriate touch-screen integration), quick, non-stop gameplay will keep you busy and entertained. Unfortunately, there are some drawback. The Stars (SO annoying!) are constantly getting in your way and some of the touch countrols are a little too touchy (sorry), but I'd be eager to pick up a sequel that fixes those two items and expands on the multiplayer experience. Cooking games can be fun, and Ratatouille has a lot more to its Single-Card Download experience than the first Cooking Mama game offered. (Both of these cooking games have sequels scheduled, so we'll see if things get better, stay the same, or drop down.) In the meantime, the Single-Card Download content on Ratatouille may be flawed, but it's fun, and it's a great way for adults who enjoyed the Disney/Pixar film to get both a casual gaming experience and integrate themselves into a story mode that may expand their gaming horizons, if only just a little.

Allow the tutorial to be downloaded (even if it needs to be a separate download).

Restrict stars to the bottom right corner of the touch screen until the player moves them.

Permit players to select recipes (and perhaps to unlock more recipe options via Story Mode).





Overall Single-Card Download Rating: 72 / 100 (a.k.a. 36/50)


Other information available:




If you'd like to contact this website: here to return to the DSSingleCard.com Ratatouille profile.
Click here to return to the DSSingleCard.com main page.